Nicholas Evans | Physiotherapist Edinburgh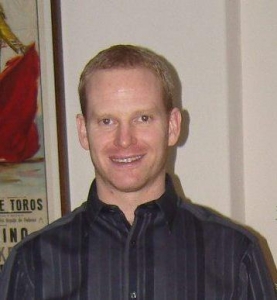 e-physiotherapy's resident physiotherapist is Nicholas Evans BAppSc (Physiotherapy), MSc (Physical Therapy), MCSP, MAPA, MRSM. Nicholas Evans qualified as a physiotherapist with a Physiotherapy Degree at the University of Sydney, Australia in 1994, adding a Master's Degree in Physical Therapy from Quinnipiac University in Connecticut, USA, in 2006. He has over 25 years of experience as a practising physiotherapist.
Nicholas Evans has researched the benefits of Pilates and core spinal stabilisation exercises for the treatment of spinal, neck and shoulder pain and has years of experience as a specialist back pain specialist. He has a particular interest in treating complex and unusual pain and extensive experience advising on and managing complex pain issues long term.
A personal interest in dance as an art form has become another specialism for Nicholas Evans at e-physiotherapy, treating dancers for their particular pain, muscle and joint issues. While researching for his Master's degree in the United States, he worked with dancers from the Hartford Ballet in Connecticut, using Pilates to improve performance and to treat injuries.
Nicholas Evans has over twenty five years of experience as a physiotherapist with a wide range of client groups including dancers and performers, the armed forces, professional and amateur sports persons, and office workers. He uses manual therapy techniques including trigger point therapy, John F Barnes myofascial release, deep tissue massage, western acupuncture and dry needling, muscle energy for pelvic and spinal imbalances, adverse neural tension treatments, Maitland mobilisations and manipulations, Mulligan NAGs and SNAGs, cranio-sacral release, laryngeal massage and vocal treatments, dizziness and vertigo treatments. Please see the e-physiotherapy Conditions page for a more comprehensive list and descriptions of issues.
As an experienced physiotherapist, Nicholas Evans knows that your pain and dysfunction may be caused by poor muscle control, weakness, stiffness or injury in areas of the body separate from where you feel the pain. Therefore, at e-physiotherapy standard physiotherapy treatments and initial assessment sessions are longer than other clinics for a similar price to allow for a comprehensive assessment and more thorough treatments. A standard initial assessment is 1 hour, and standard follow up appointments are 45 minutes, although clients can also choose to have a shorter session at 30 minutes for a discounted rate.
Although manual therapy from a physiotherapist is important for regaining function and reducing pain, Nicholas is also convinced that specific exercises and taking an holistic view of the body is essential for longer term change and to help manage client's problem. The physiotherapist at maintains close links with local personal fitness trainers who can help improve fitness and prevent injury, especially if the client has not exercised for some time or have previously had problems with increasing their physical activity levels.